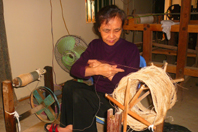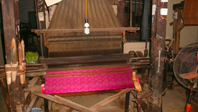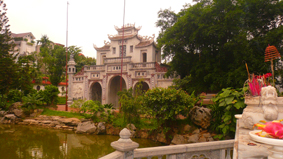 We chose silk from Van Phuc, a village situated on the bank of Nhue River, about 10km southwest of Hanoi (Vietnam).
Van Phuc silk village is renowned for its traditional weaving and premium quality silk products. At the age of more than 1,200 years, Van Phuc is the most ancient silk village which provides the best silk in Vietnam.
For a long period of time, silk was considered as extremely precious handwork which was only used to tailor Royal members' and aristocrats' dress. The special beauty of Van Phuc or Ha Dong silk was inspiration for many Vietnamese poems, songs and movies .
In Nguyen dynasty time, Van Phuc silk was brought to Hue imperial citadel to make dress for royal members. Between 1931 and 1932, Van Phuc silk was on display in international exhibitions for the first time in Marseille, then Paris and was highly appreciated and preferred by the French.
From 1958 to 1988, Van Phuc silk mostly was exported to Eastern European market, and since 1990, it has been known widely in many countries all over the world.
Van Phuc silk has been known for its smooth, light weight, and elegant appearance. Especially, a traditional kind of silk called Van Silk .