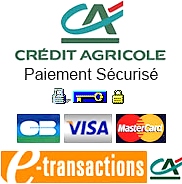 We guarantee a secure connection with several methods of payment provided for you to make your purchase with peace of mind : PAYPAL, credit card or bank transfer.
In addition, all the information entered in the My Account section is encrpyted.
We thus make sure your confidential data is protected. For this we use an SSL certificate.